Canyoning dalat is one of the useful activities suitable for nature lovers, adventurous and passionate about exploring and climbing in places with rough terrain, not flat. If you are interested, check out the section below to understand more!
What is the dalat canyoning tours?
As one of the most adventurous tours in Da Lat, "dalat canyoning" is understood to be "swinging a waterfall". This activity will bring you great experiences when you directly explore, mix with wild nature. You can cross the fast flowing water, soak in the clear blue water, swing through the craggy cliffs or walk through the jungle, …
The tour "dalat canyoning" promises to make those who are experienced, or completely unaware of this activity, able to satisfy endless passion with the vast mountain forests. With the help and guidance of professional instructors, you will win yourself, conquer wild nature safely.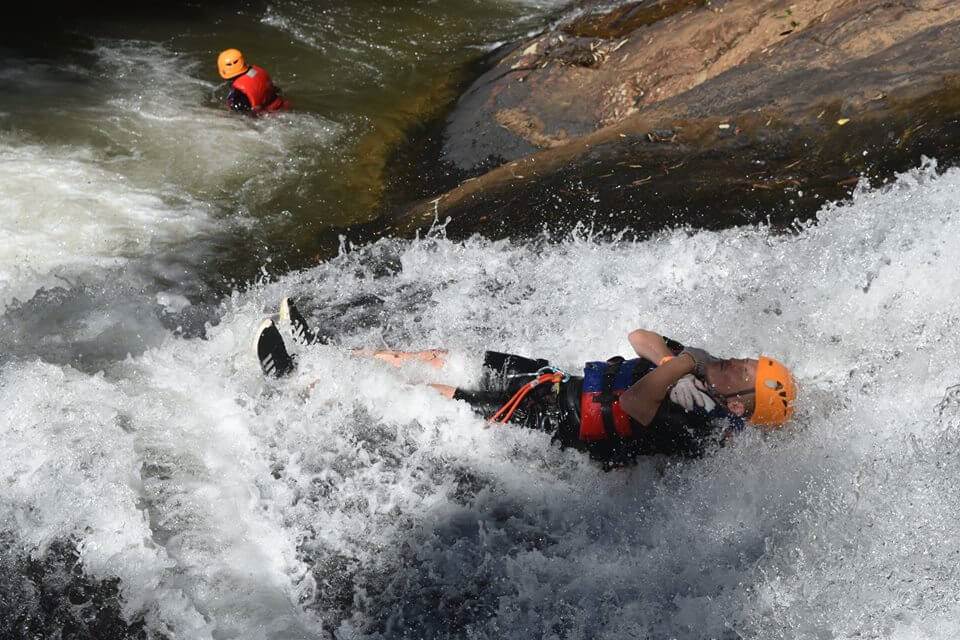 Come to Canyoning, you will experience many kinds of strong feelings
What should you do and should not wear when making canyons in Dalat?
When "swing the waterfall", you should equip yourself with the following tools:
An easy-to-wear outfit to wear and clean clothes to change after experiencing great activities.
Sunscreen
Choose shoes suitable for all terrain or can choose climbing sports shoes to experience the "swinging waterfall" smoothly.
Fully equipped with protective equipment such as hats, mold belts, hand restraints, gear reducers, …
Bring a waterproof camera to capture great moments.
In addition, to avoid unintended situations, do not bring the following items:
Do not bring expensive money, phone or jewelry.
Do not wear sunglasses and hats.
Cost for a trip "Canyoning Dalat tours"
The cost for a full "dalat canyoning" trip includes: hiring guides, transportation fees, protective equipment, entrance fees, lunch, water, picnic, travel insurance,…
Join the game, you must comply with the instructions of the instructor
How do you experience safe "canyoning dalat"?
In order for your experience and learning trip to be safe, you need to strictly comply with the guidelines set by the tour guide that were initially popular. In particular, during the process of crossing the forest, without any member separating the group or doing risky things without the consent of the rest. In addition, if you have any health problems, you can immediately notify people for assistance.
Where do you register the best "canyoning dalat" tour company?
To experience the best with activities that challenge yourself, you can find travel company Dalat Adventure Tours. We will arrange for you to come with a challenging but equally fascinating and attractive journey.
Canyoning will help you get more friends
Da Lat, it is about sad streets, poetic lakes, … too calm and peaceful. But why don't you renew yourself, refresh Dalat with the experience of Canyoning Dalat to mix with nature, as well as love this city.
Main source: https://adventuredalat.com/